Battery Interrupter
SKU:

B109AA

UPC:

MPN:

BI09
Frequently bought with this item:
Description
Battery interrupters let you use a switch to turn on and off most battery operated toys and devices. An inexpensive and easy way to use toys or devices you already own!
So, what makes our battery interrupters so much better than the other guys'? (Besides the great price!)

We coat our disks to retard corrosion. This ensures your battery interrupter will last years, not months.

We use a thicker wire with durable solder joints.

We add a generous 16" of wire before attaching a durable jack to the end.

Simply insert our battery interrupter between "AA", "AAA", "C", or "D" batteries and make many items switch activated. The jack accepts a standard 3.5mm plug. This is a great option if you have a favorite toy or vocational-related device that needs to be adapted. Interrupters will only work in devices/toys that have an on/off switch that you slide, depress, or move to the ON position. To test if the toy can be used with a battery interrupter: Turn the toy on and while it is still playing remove and reinstall the batteries. Does the toy immediately start playing when the batteries are reinstalled? If so, a battery interrupter will likely work with it.
Battery interrupters do not work with toys that are squeezed, have a button that must be depressed and held down to make it "go", or fail the test we mentioned above. We do not recommend using them in toys that have excessive repetitive movement (repetitive back and forth, fast moving, jerking, circular motion,...), especially if the battery compartment is on the base of the toy where the primary movement is. While the interrupters will work in toys with these movements, these types of movements will put extra strain on the wire and the interrupter will not last as long. Also please note that we are not responsible for damage to the toy you use the battery interrupter in. Modifying your toy is done at your own risk.
Choose the size based on the battery size your device uses.

Price is per interrupter.

These cannot be used with 9-volt or button batteries. Please see below for instructions on modifying an interrupter for small or odd shaped battery compartments.

For more details about battery interrupters, see this article.
When submitting orders via mail or fax, please be sure to specify which size interrupters you are needing. If there is no specification, size AA/AAA will be shipped. Please allow additional handling time for bulk orders.

We highly recommend using a triangle file to notch out the battery compartment door to allow the adapter wire to pass through.

On occasion you may run across a battery compartment that is smaller or odd shaped (such as with AAA battery compartments) which won't allow the adapter to slide in. In these instances, the metal disk on the battery interrupter can be cut using heavy duty scissors or garden shears to make the interrupter fit. Do not cut too close to the solder connection where the wires are attached. Click on the video to learn more.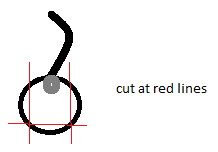 Place the disk between the battery and the spring (or metal bump if there is no spring) in the battery compartment. Sometimes it is easiest to slide the battery interrupter disk and the battery in at the same time. Do not use force on the area where the wires join the disk. This area is not made to withstand pressure, which may cause the wire to break. Use a triangle
file to make a small notch for the wire to fit through the battery compartment door before you close it. If you simply attempt to close the battery door on the wires, they will be smashed and may break. Frayed or broken wires are not covered by our warranty.
View All
Close
Warranty Information
90 days against jack defects and de-soldering from the disk. Frayed or broken wires are not covered.
View All
Close